Audio Conference call:
Audio Conference Call enables multiple people on multiple phones to connect on the same call. Each person dials into a central conferencing line and can hear and speak to all the other people who call into the same line. Conference calls are audio-only connections. Dialing into meetings is very useful for users who are on the road and can't attend a meeting using Skype for business or Microsoft Teams app on their laptops or mobile devices.
There are other scenarios in which using a phone to attend a Skype for business or Microsoft Teams meeting can be a better option than using an app on a computer. You only need to set up Audio conferencing for people who plan to schedule or lead meetings. To attend any meeting on an audio conference call you don't need any license assigned to them or another setup.
Finally, an audio conference call service that meets your brand and business goals with free, industry-leading features. Secure Audio conference lines equipped with high-quality audio come standard with every plan, so you are guaranteed safe and clear calls every time.
Audio Conference call is a very easy way to connect with participants by using different services. Here below is the complete information on Audio conference call services. You can try any of the ones that suit you and your device. So let's start to learn them one by one.
Audio Conference Call Services:
Here we are going to listen to the Audio Conference Call Services for you in detail. With audio conferencing, your users can use toll and toll-free phone numbers to dial into meetings.
RingCentral:
RingCentral conferencing empowers you to make unlimited audio conference calls. You get a single conference bridge number, available for simultaneous use by everyone in your company anytime, anywhere.
Each user on the RingCentral phone system gets their own host and participants' access code. So you and your team can hold an independent conference whenever you want. Each conference call can include up to 1000 attendees, enabling you to hold large meetings and broadcasts.
Zoom:
Zoom audio conference call service is the best for large teams. It shot up in popularity recently and for good reason. Aside from the Global pandemic forcing companies to choose a new audio conferencing option. Zoom also rose in popularity due to its reliability, user-friendliness.
It is a free app and it allows up to 100 participants to join an audio conference call. Zoom has the best features like cloud recording features which will very helpful for participants for a future time. Use Zoom for the best audio-free conference call.
GoToMeeting:
GoToMeeting makes advanced conference calling features available to everyone. It provides the best audio conference call service, Dial-in numbers and screen sharing are standard across plans. GotoMeeting goes beyond those with its more expensive offerings. The smart assistant feature can automatically transcribe your meetings, recognize and order slides and send out notes to your team after a meeting ends.
GoToMeeting app is best for upgrading or creating your conference room. In this audio conference call service, you can join up to 12 people in a conference meeting. This will also provide video conference calls as well.
Cisco Webex:
Today more than ever businesses are prioritizing collaboration. To facilitate that, many organizations are turning to video conferencing to foster teamwork among their employees. This Webex by Cisco excels. Its features include messaging options, file sharing, and the ability to start audio calls in the middle of an online chat.
With Webex, you get two services in one, Webex meetings and Webex teams. Webex meeting is a full-service audio conferencing solution that can host meetings with up to 200 participants at a time. It is the best audio conference call service nowadays.
Microsoft Teams:
Microsoft has replaced Skype for business with Microsoft Teams. It lets users easily transition between group chats and conference calls for quick collaboration with a 250 participants limit. Microsoft teams treat audio and video calls the same, allowing for the functionality of both depending on the participant's needs.
This service is the best Audio conference call service because of its best features. Microsoft teams also have a feature to help filter out background noise from the audio conference call.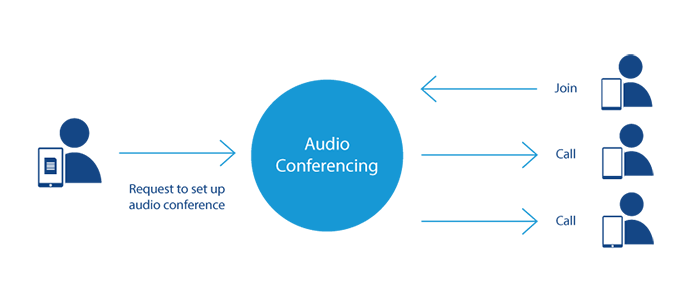 Conclusion:
However many of you like to connect with Audio conference calls or meetings. The above mention services are a few of them which are used for the audio conference call. We just mention some of them which are mostly used for audio conference calls but it doesn't mean that they are limited.
Most of the other apps like WhatsApp, Facebook, Skype, Telegram, Imo, and all other social media platforms. We didn't explain this all above because their limit is less than the above ones. This service provider just allows 5 to 8 participants for audio conference calls therefore large businesses didn't use this service.
You can use these services for your personal audio conference call like when you connected with your friend or family at any event. We will provide complete details of these services in our next post one by one. If you have any queries or confusion you can contact us in the comments section.