Video Conferencing:
Video conferencing is telecommunication in the form of a video conference. It is an online technology that allows users in different locations to hold face-to-face meetings without having to move to a single location together. Read more to get the complete information on this What is Conferencing?
Conferencing Instructions and Guide:
It is a meeting with two or more participants who are participating from different locations. They use a computer connection, audio, and video to connect. Video conferencing can be used for team meetings, webinars, product demos, job interviews, and more. It refers to any live video communication between two or more parties in two or more separate locations. These video connections generally include live audio and text as well.
Video conferencing can run the gamut of technology complexity from static images accompanied by text to high-quality video and audio. The recent rise of the video conference is taken the world by storm. As a result, the call is fast becoming an essential business tool rather than an optional innovation, video conferencing statistics reveal.
Video statistics show that 76% of individuals use video calls to work remotely. Moreover, 43% of employee respondents said video communication helps the team to be more productive. And bridge the distance between physical locations and teams scattered worldwide.
In broad terms, video conferencing software is a solution that allows two or more persons to talk and see each other remotely. Video conferencing software only enabled users to make video calls or hold group video conferences. However, as technology advanced, conferencing software acquired plenty of helpful tools and features for remote communication and learning.
PC Video Conferencing:
In the business world, desktop conferencing is a core component of unified communication platforms that also include calling and messaging capabilities. Your Desktop system supports a room-based video, as well as the ability to embed video conferencing into business applications, such as telehealth, customer service, and distance learning.
Conferencing Advantages:
Following are the best benefits of Video Conferencing.
Secure your communication.
Save your time.
Meet with ease
Brainstorm ideas
Get real-life impressions
Purpose of Video Conferencing Meetings:
The main purpose of video conferencing is to enable face-to-face communication between two or more people in different locations. It is a popular alternative to phone conferencing for businesses and provides individual users with an inexpensive means of communication with distant friends and family.
Video Conferencing Required Rules:
Mute yourself when not speaking
Be on time
Ensure your technology works correctly
Use technology to fully engage remote participants
Choose the proper software and hardware
Wear work-appropriate clothing. Frame the camera correctly
Have the right light
Look into the camera
Pay attention
What do you need for Conferencing?
To join or host any basic video conference, you need to:
A desktop or laptop computer
A web camera
A microphone
Speakers or headphones
High-speed internet access
An account with a conferencing service
Type of Video Conferencing Calls:
The following two are the most demanded types of conferencing. These are discussed below here with detail.
Point-to-point conferencing:
In Point-to-point conferencing, there are only two participants communicating from different locations in real-time.
Multipoint Conferencing:
Multipoint conferencing involves three or more participants, that is why it is also called "group conferencing". This is different from the three-way call that comes as a feature with many business phone systems.
How does Video Conferencing work?
Conferencing is powered by VoIP, the technology that makes voice communications over the internet possible. In order to transfer audio and video signals between two locations, VoIP relies on special algorithms called codes. Conferencing's main advantage over telephone conference calls is that users can see each other. Which allows them to develop stronger relationships.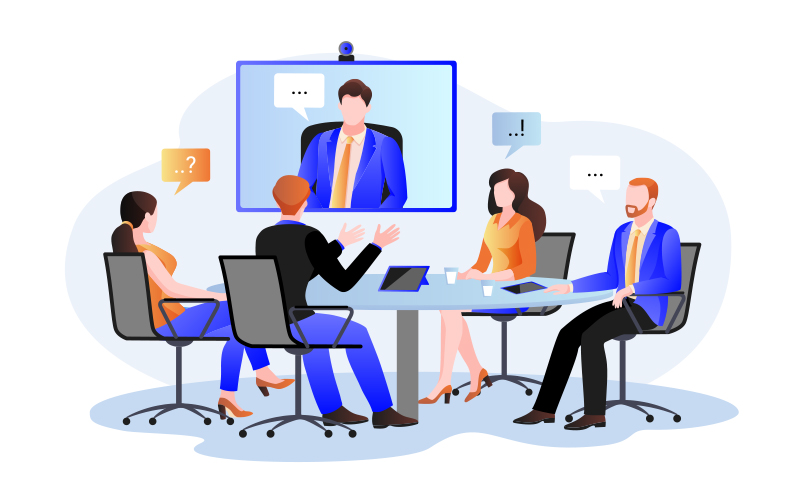 Features of Conferencing:
Screen sharing
Simultaneous annotation
Chatbox
File sharing
Video call recording
Noise cancellation
Device switching
Conclusion:
Due to COVID-19 Pandemic, remote working became the new normal for many companies. Companies look to conferencing technologies to maintain business operations. These services required all companies to download software if they want to send audio or video. It platforms such as Zoom, Skype, and Microsoft Team are used during the COVID-19 Pandemic. As lockdowns forced many individuals around the world to work from home and attend online classes.
With all these benefits, it is easy to see that conferencing has given rise to the modern meeting room. Here we provide all the details that users need to know about video. Keep in touch with us for more information about video conferencing.